How to Find Biblical Joy When a Child Walks Away From God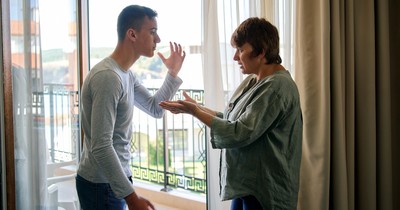 By Gina Smith, Crosswalk.com
"God doesn't want us to rescue our children. He's the Rescuer." - Elizabeth Musser
From the moment our children are born, the weight of responsibility that we have to teach, train, and point them to God is an ever-present reality. We work hard to have good conversations, read good books, provide them with biblically based resources, live out the gospel in our home, ensure they are in a good church, and sift through everything that might influence them. We are on call 24/7, and we pray constantly. We work hard so that the foundation that is laid will be solid enough for them to begin building their faith, and so they will desire to choose to follow God when they are adults. But what do we do when a child walks away from it all? How can we learn to live with the reality of having a child who has no interest in living for God?
If this has happened in your family, I want to give you a (virtual) hug and tell you that I am so sorry for the pain you are feeling because of your child's choices, choices that are completely out of your control. There is no more helpless feeling than to watch a child choose a path that we know is not the best for them. It is probably one of the hardest things a parent can go through.
So what do we do when this happens? How can we possibly have joy when faced with the challenge of having a child walk away from God?
Verses to Help You When a Child Walks Away From God
Psalm 116:2 "Because he bends down to listen, I will pray as long as I have breath."
Pray! Never stop praying! I love this verse and how it points out that God bends down to listen. We can be assured that he hears our prayers, which are powerful. He hears them and works even when we can't see it. "Pray without ceasing" (1 Thessalonians 5) for your children, asking God to open their eyes to their need of Him.
Romans 12:10 "Be devoted to one another in love…."
Love unconditionally and be devoted to love. I can't think of a better person to love in this way than our own child! And when we love in this way, devotedly and unconditionally, we obey God's command to put on love no matter the circumstances. We are also modeling Christ's unconditional love for us.
Ezekiel 36:26-28 "And I will give you a new heart, and a new spirit I will put within you. And I will remove the heart of stone from your flesh and give you a heart of flesh."
Be reminded. This verse is a reminder that God is ultimately the one who can change the heart of our children. We do not have the power to do work in their heart. We can find renewed hope in God and His power when we read this verse and understand its truth. As was said in the opening quote: "God doesn't want us to rescue our children. He's the Rescuer."
1 Chronicles 16:11 "Look to the LORD and his strength; seek his face always."
Stand strong. This is a key moment for us to practice standing strong in our faith and finding hope and strength in the God we say we serve—the God we want our children to serve. It is a time when our children will be able to see if what we have taught them and what we desire for them is a reality in our own lives when we cling to the one they say they are not interested in.
What Good Can Come When a Child Walks Away From God?
This might be a time of eye-opening growth for you. Take the time to evaluate your own life. Ask God to show you if there are any inconsistencies or blind spots that you might need to deal with. I do not mean to imply that we are to blame for our children's choices, but there might be something that has been said or done (unintentionally) that may have been a discouragement or caused them to stumble. One of the ways that we can continue to live out our own growing faith in front of our children is to seek forgiveness for anything we may have done to discourage them. Our humility in admitting we aren't perfect can be very impactful.

This can be another opportunity to love your child well by being quiet and listening to their thought process. Thinking things through for themselves is a good thing. Questioning can be a good thing. And even though it is not God's desire that anyone walk away from him, he can use even that to show a person how much they need him. He is able to draw them to himself. We can have renewed hope as we focus on that truth.

A renewed perspective. The only perfect parent is God. He is our Father and has been dealing with rebellious children since the beginning of time. He has been hurt, disappointed, misunderstood, and rejected by His children, yet He loves and forgives us. When we are reminded of this amazing reality, we can view our children in the same way God views us.
Find Biblical Joy When a Child Walks Away From God Focusing on God
Thank Him For Who He Is: Father, thank you for being Yahweh-M'kaddesh - The Lord Who Sanctifies and Makes Holy. You are the only One who can save and cleanse your people. You are the only one who can change a person's heart and cause them to want to follow you. I know that you are able to bring my child into a right relationship with you.
Thank Him For His Faithfulness: Father, you are faithful even when I am not. As hard as I've tried to be a perfect parent, I know that I am incapable of attaining perfection, and my child has seen my flaws and weaknesses. I know I have not always represented you well. But you are faithful. You are perfect. Please help my child understand and experience that truth.
Thank Him for His Promises: Father, thank you for your promises that I can cling to when what is going on around me appears hopeless. All of life is out of my control. Thank you that your Word promises that You are in control of everything and that You can draw all people to yourself.
Thank Him For His Provisions: Father, thank you for your provision of eternal life that was made possible through the death of your very own son. This is a gift that I can never repay. I offer you my life and ask that you will use it for your purposes here on this earth, and I look forward and find hope and joy in all that you promise to provide for your children in eternity. Please open my child's eyes to all you have done to provide for him.
This article is part of a series by Gina Smith on biblical joy. Here are more of her articles:
How to Find Biblical Joy When You Battle Depression
How to Find Biblical Joy in the Daily Grind
Finding Biblical Joy in Loneliness
How to Find Biblical Joy When Life Doesn't Look the Way You Thought it Would
Photo credit: ©GettyImages/YorVen
Gina Smith is a writer and author. She has been married for 34 years to Brian, a college professor, and athletic trainer. For 25+ years she and her husband served on a Christian college campus as the on-campus parents, where Brian was a professor and dean of students. They reside right outside of Washington DC and are the parents of two grown children, one daughter-in-law, and one son-in-law. She recently authored her first traditionally published book Everyday Prayers for Joy, available everywhere books are sold. You can find Gina at the following: Website:ginalsmith.com, Instagram, , and at Million Praying Moms, where she is a writer.